Hello,
My brother has a Nissan Note 2009 1.5 Diesel
He told me yesterday that he heard a beeping noise constantly but no lights showing on the dashboard. Last night the car wouldn't start, the engine tries to turn over but just splutter and turn off.
We've tried jump leads this morning and no luck either. The diagnostic machine is showing the P0409 error code.
I know it's a sensor that's to the right of the engine, the car has done over 130,000k+ miles. Does it need cleaning or would it be best to just replace the whole sensor?
Can anyone let me know what part I would need? Images uploaded for reference.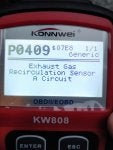 Thanks
Javed